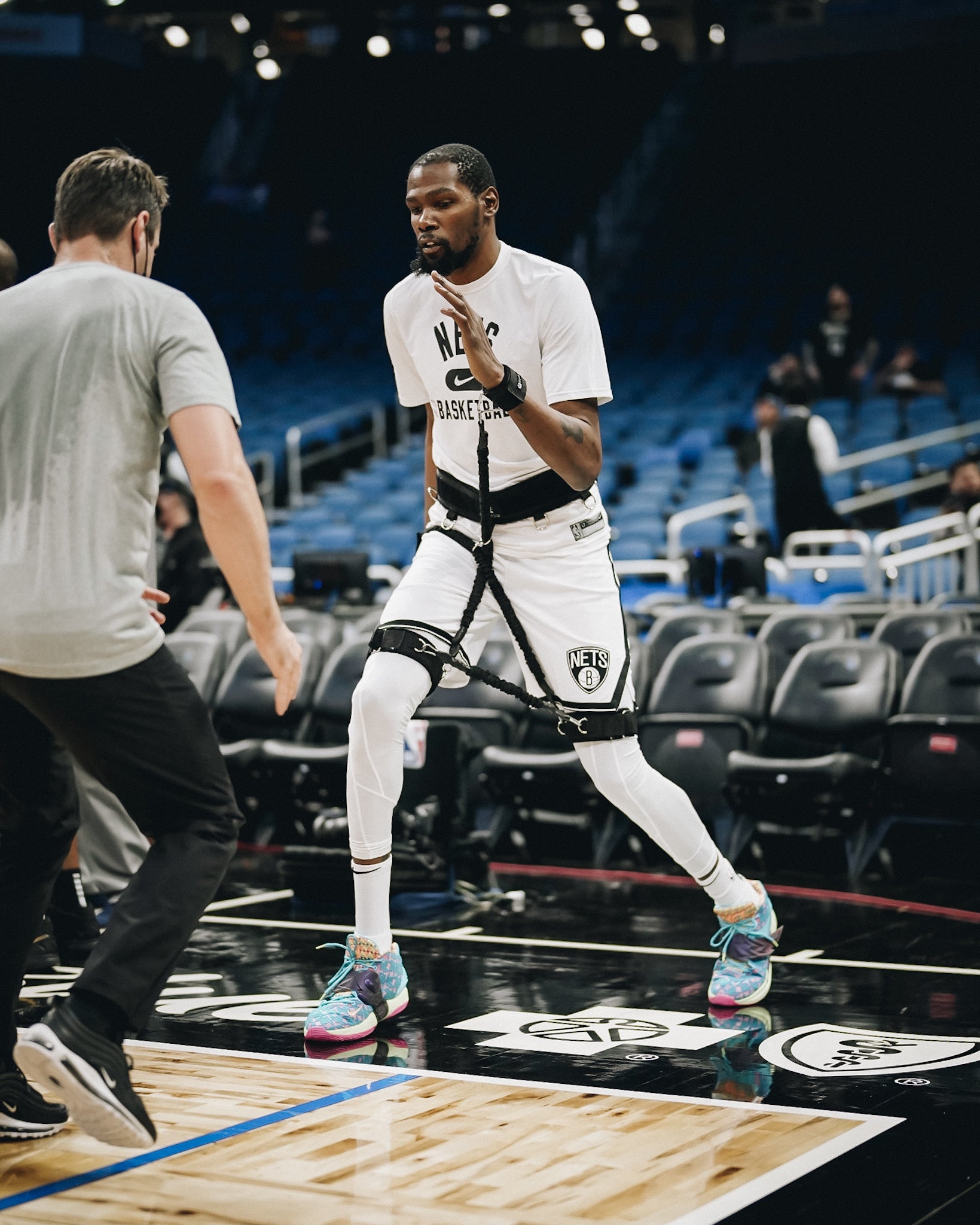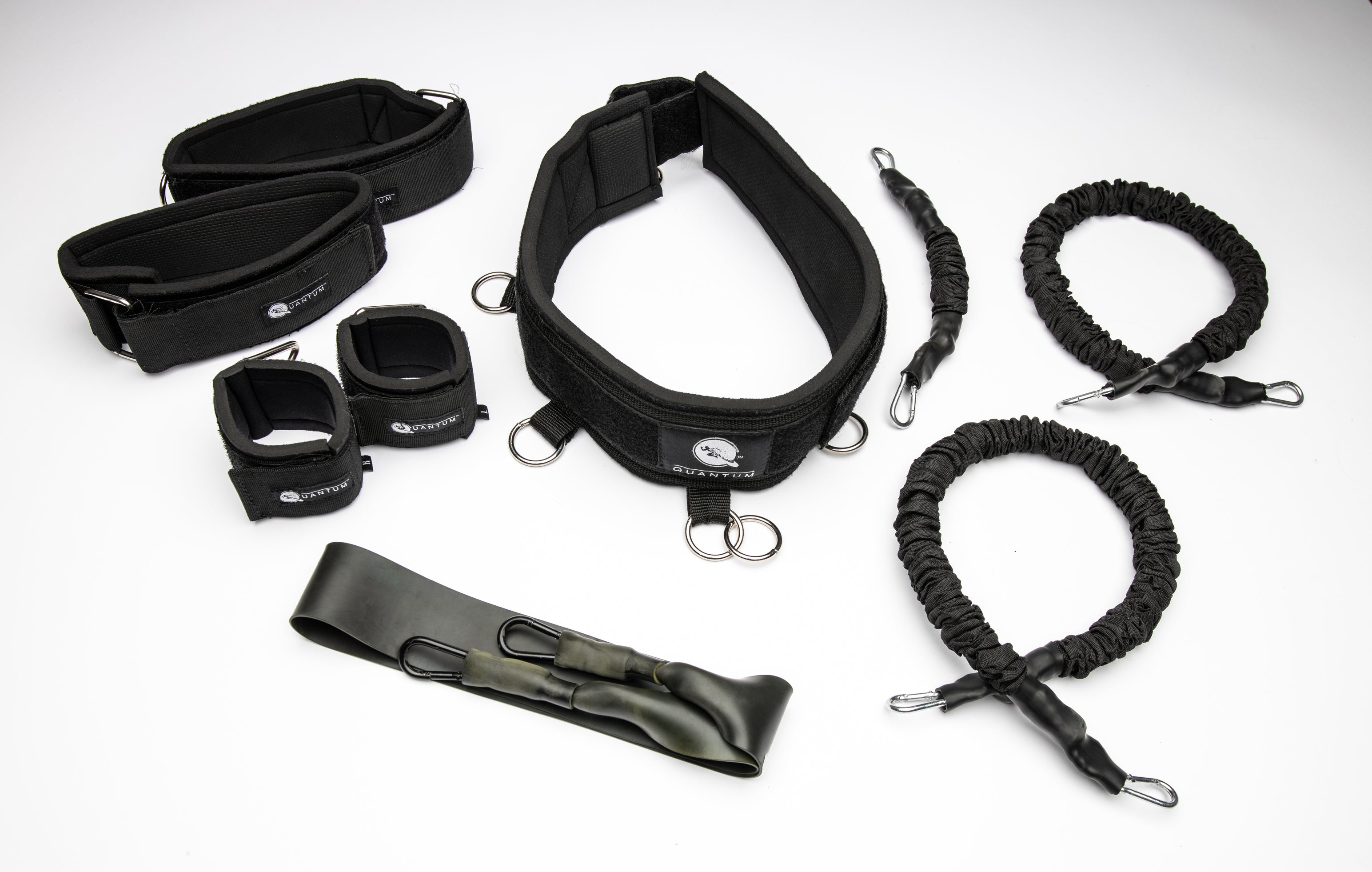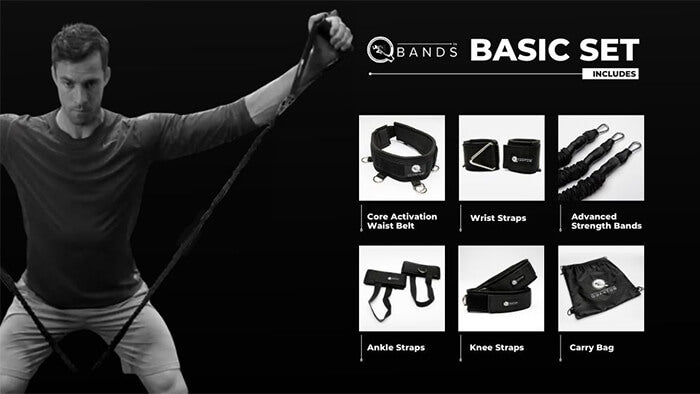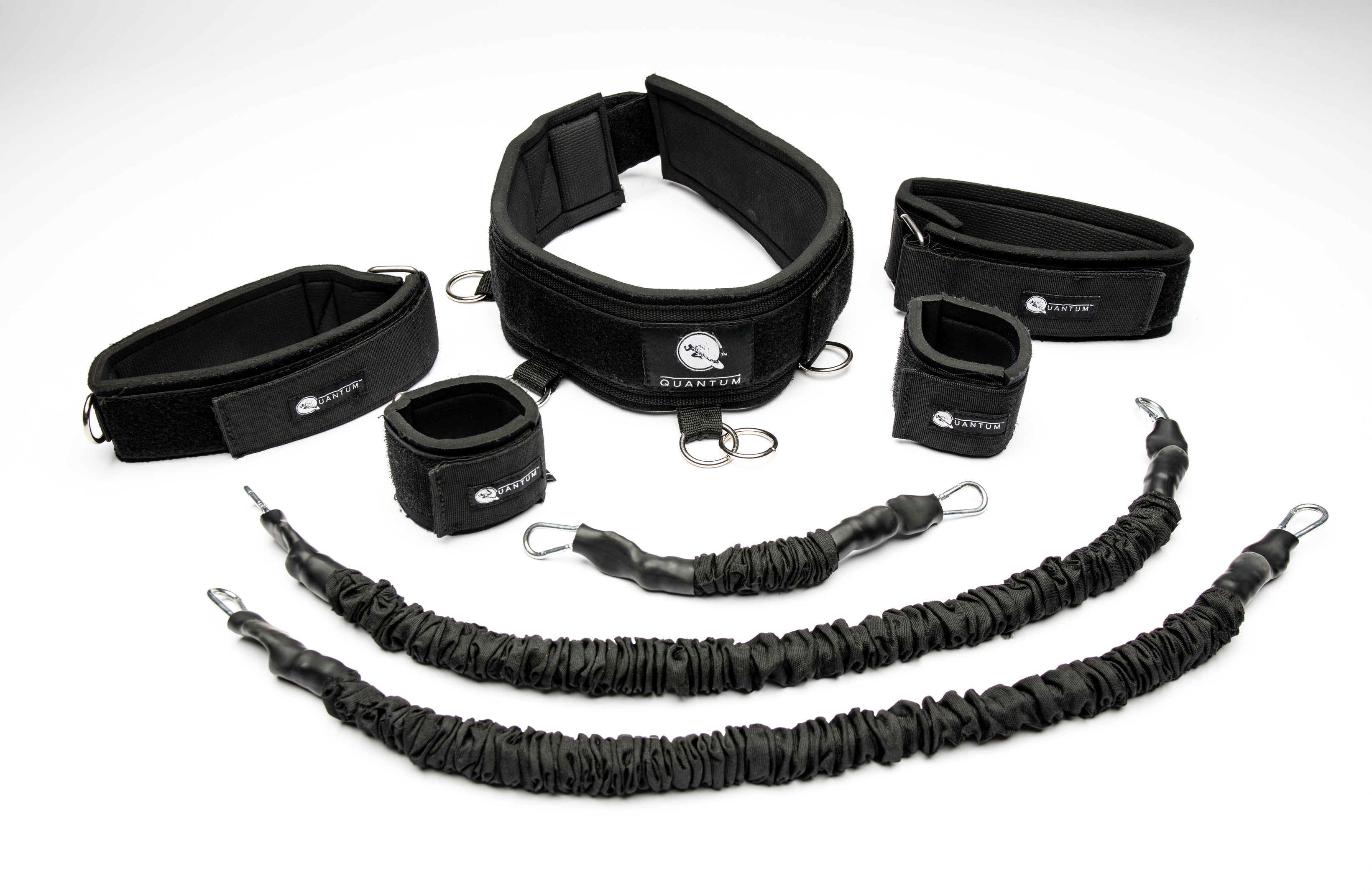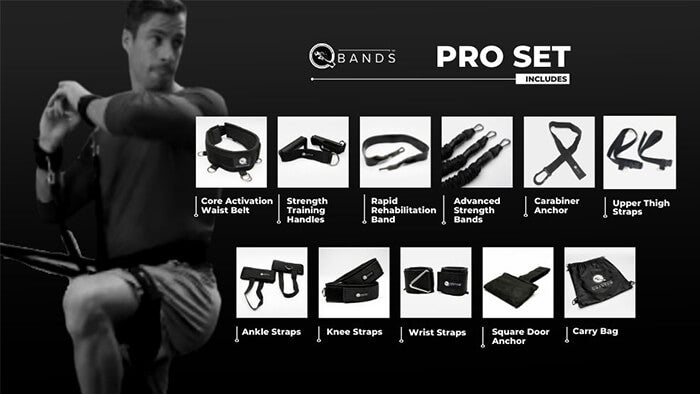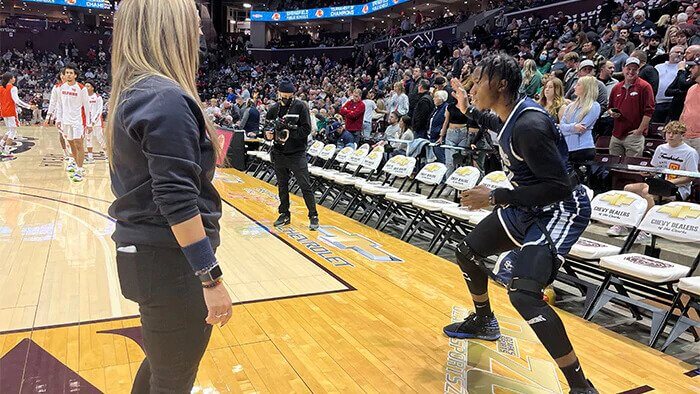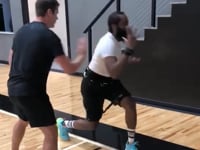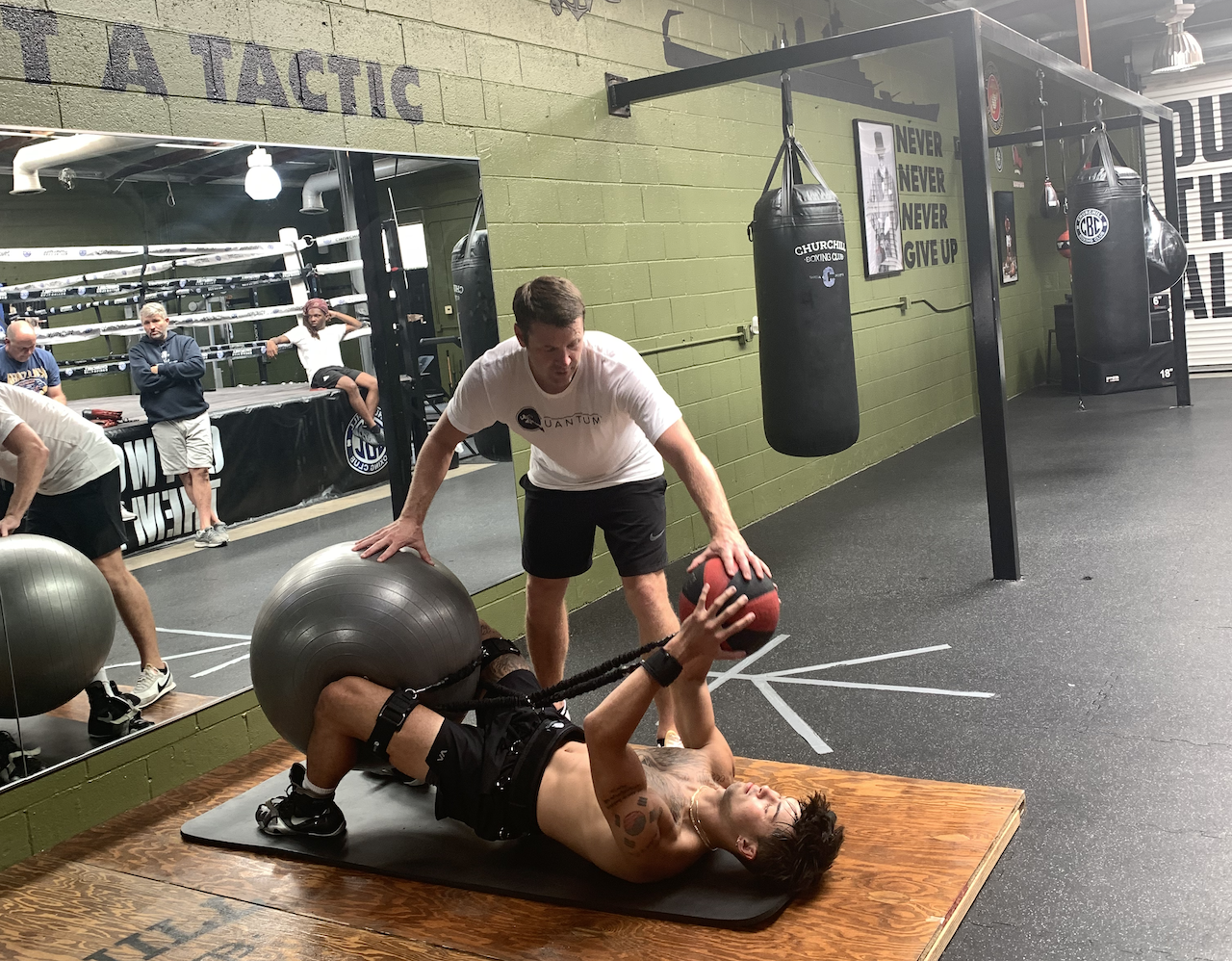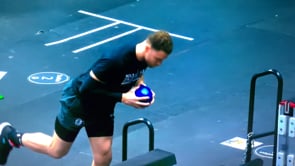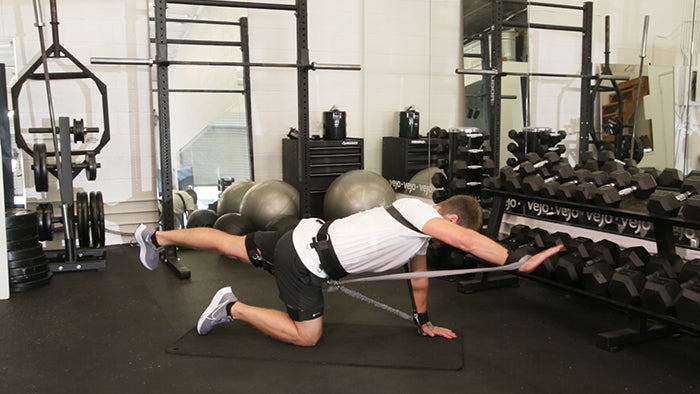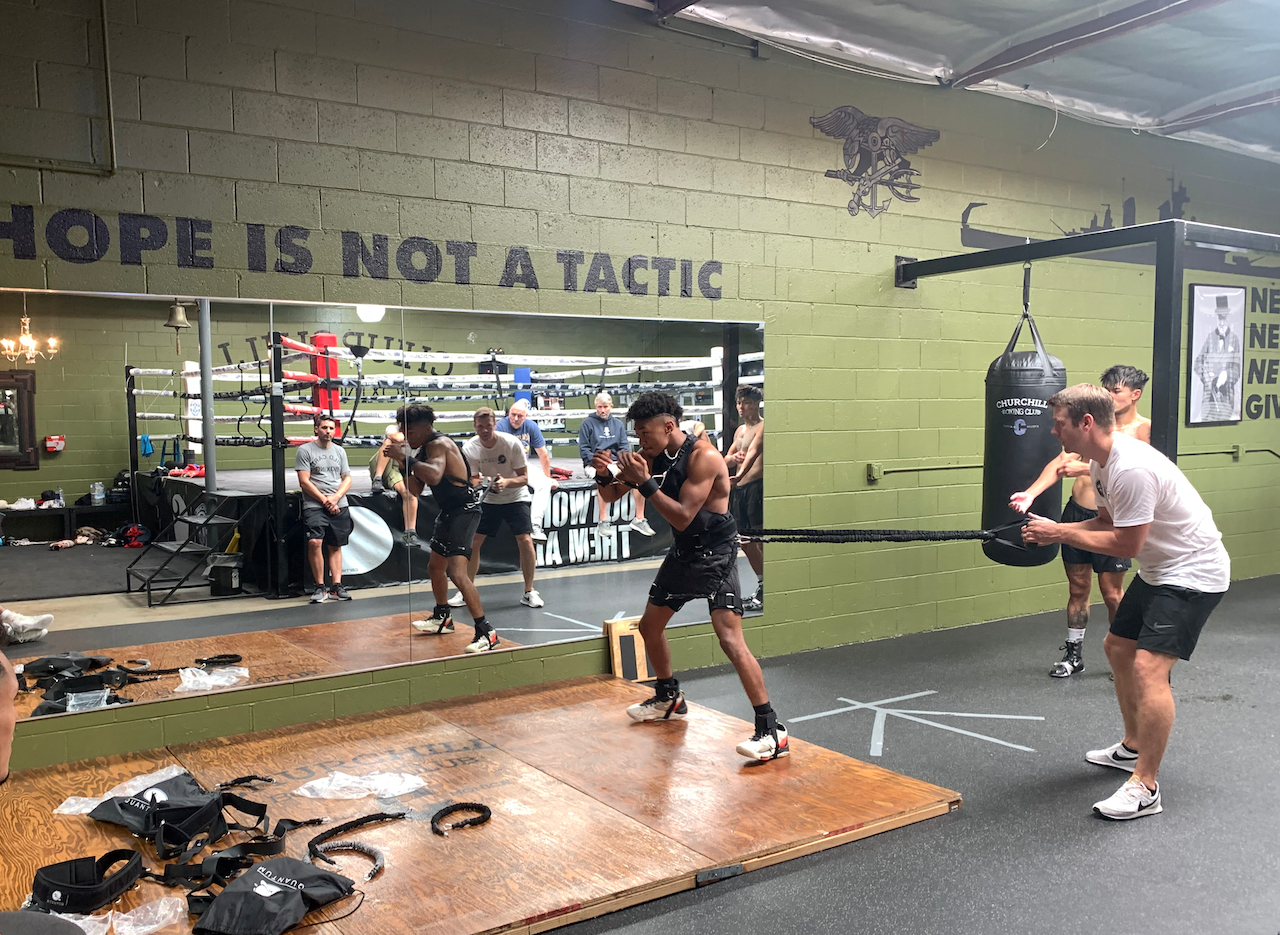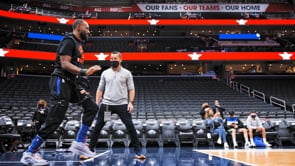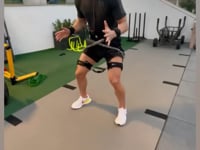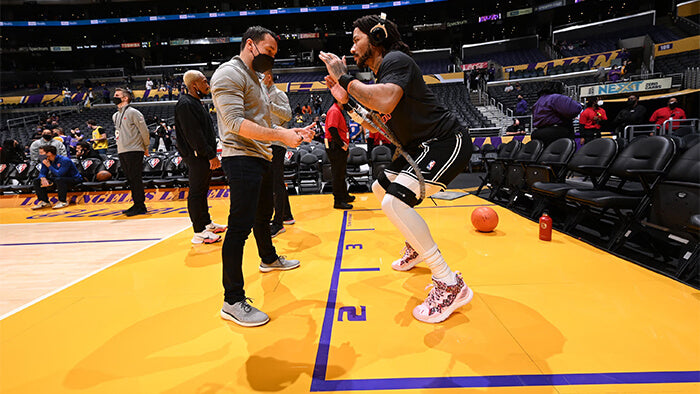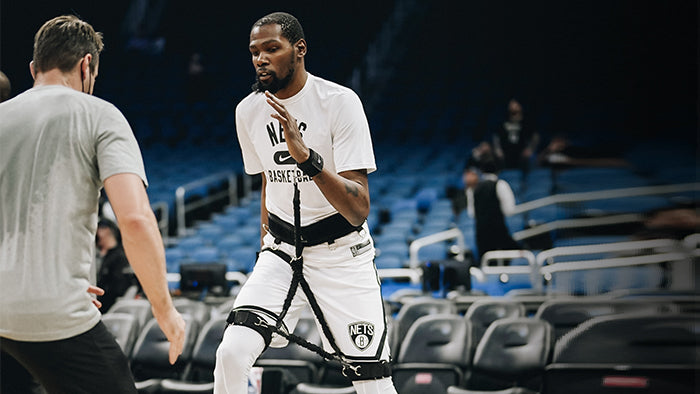 QUANTUM PERFORMANCE BANDS
---
A high-performance, portable training system that activates your competitive edge from anywhere in the world.
The same powerful band system + online training library that elite athletes use to create dramatic gains in their game. Train exactly like The Pros and develop explosive POWER + injury RESILIENCE
✔ The Qbands System (Pro or Basic Set)

✔ Lifetime access to Dr. Andy Barr's (who trained dozens of pro athletes with his self developed Qbands system) exercise video library (valued at $399)

✔ Free Qbands intro course by Andy (value at $199)

✔ Free and fast USA shipping (valued at $29)

✔ 180-day Money Back Guarantee

Total value: $926
The Basic Set comes with:

1 x Core Activation Waist Belt

1 x Pair of Wrist Straps

3 x Advanced Strength Belts

1 x Pair of Ankle Straps

1 x Pair of Knee Straps

1 x Carry Case

The Pro Set comes with:

Everything in Basic Set +

1 x Rapid Rehabilitation Band

1 x Carabiner Anchor

1 x Pair of Upper Thigh Straps

1 x Square Door Anchor
For a limited time, we are offering Free Shipping on all domestic orders to the United States. For International Orders, standard carrier rates will apply.
We stand by our products with a 100% Satisfaction Guarantee - if you are not satisfied with your Qbands products within 30 days of purchase, simply return the product with its included accessories and packaging along with the original receipt.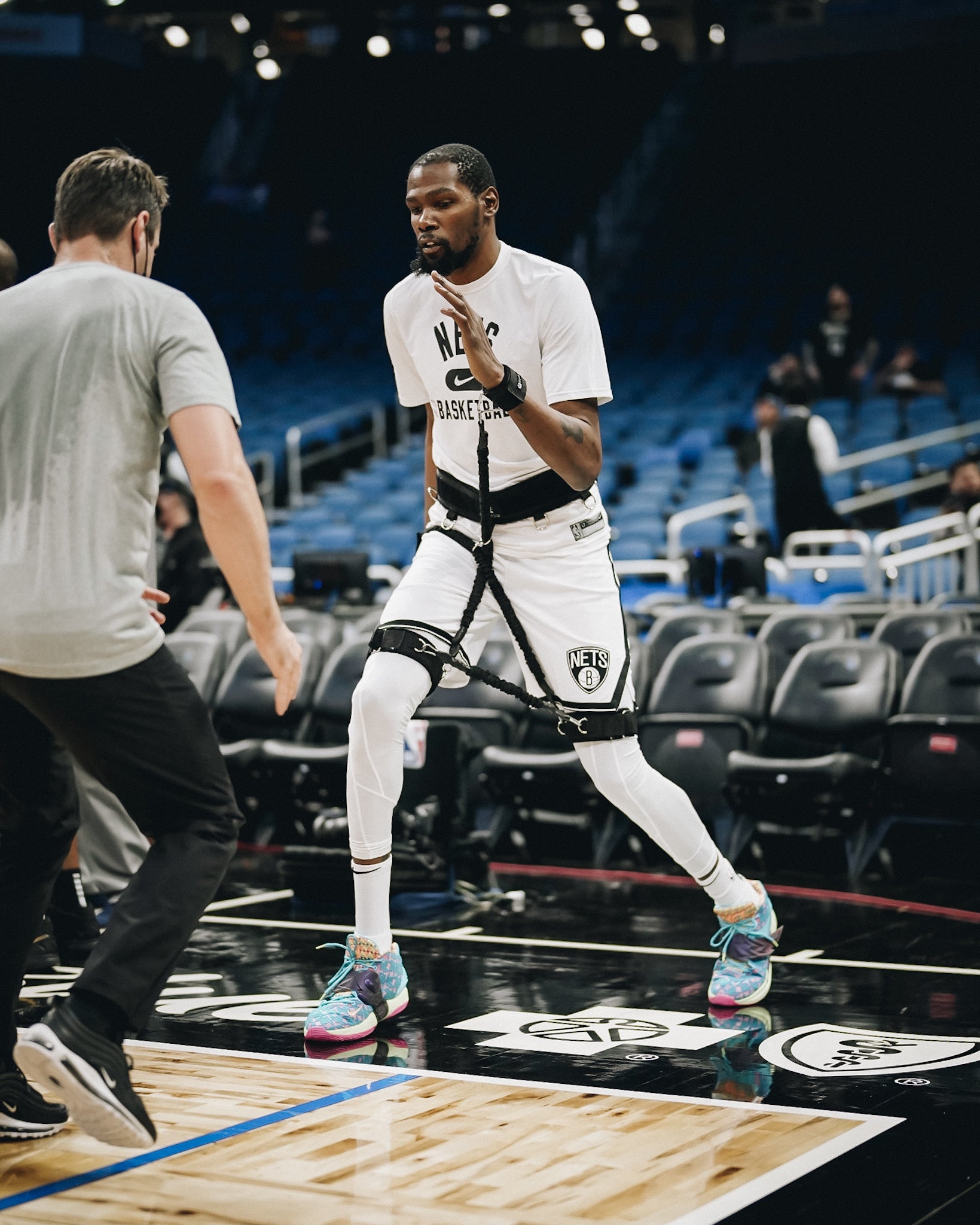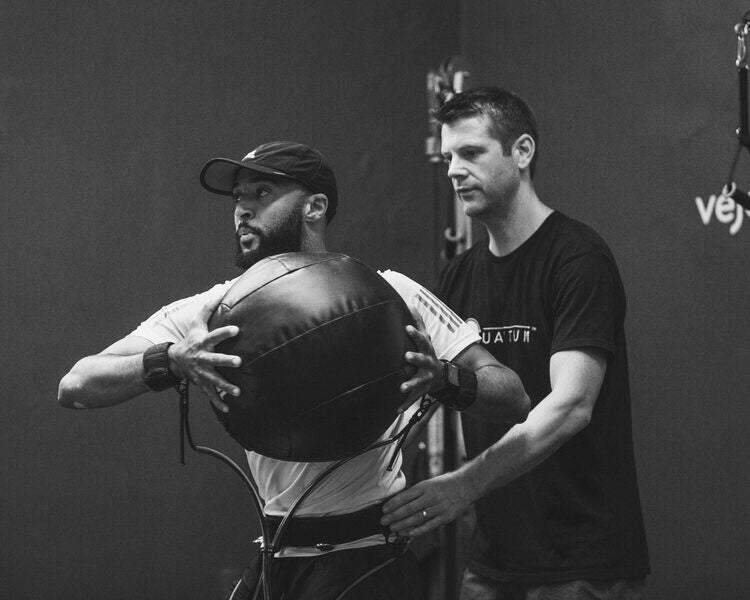 Reach Your Peak Performance
The Qbands system is used by elite sports practitioners, athletes and amateurs to take their health and game to the highest possible level.
INCLUDED WITH EVERY PURCHASE
PRO TRAINING & REHAB LIBRARY
Expert Videos That Will Guide You Through Set Up, Training & Rehab Sequences.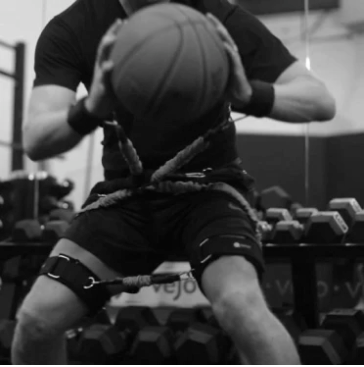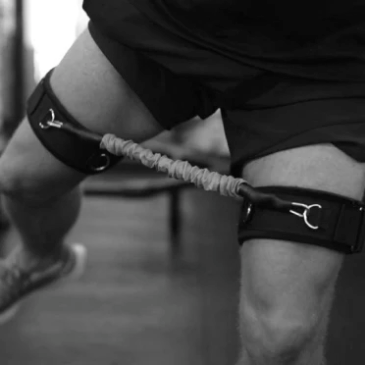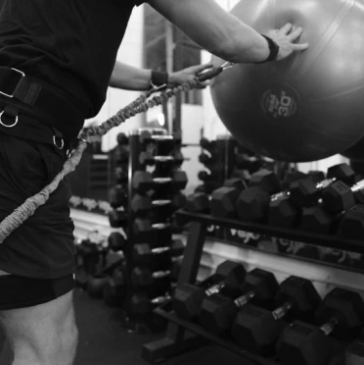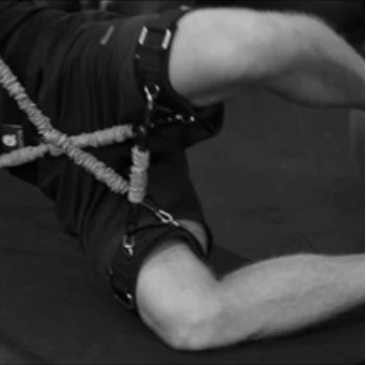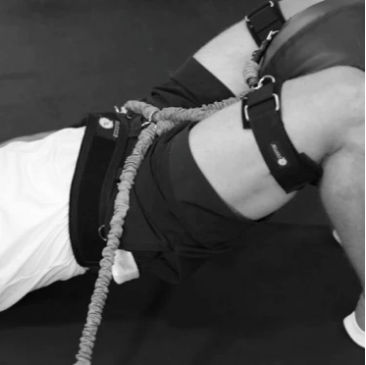 This product is rated 5.0 of 5.0 stars.
It has received 13 reviews.
Got rid of nagging injuries
"I'm a former D1 runner and currently play volleyball competitively, and using Qbands a couple times a week has fixed nagging aches and pains across my lower back, knees, and ankles, which makes sense because the science behind the bands is rock solid. I highly recommend Qbands to any athlete looking to prevent injuries, return to play, or adress aches and pains. The extra core activation you get with the Qbands is pretty incredible
Dr. Lev Allen
The Q Bands system is one of the best and most effective tools I use for all my patients. I truly believe every Physical Therapist and Strength coach should use the Q bands with their clients/patients. The bands allow the user to experience resistance in multiple regions while also providing neuromuscular feedback. Injury prevention is my number one goal as a PT and this product significantly allows me to emphasize that with my patients through movement and exercise. GREAT PRODUCT - highly recommend.
Quantum Performance Bands
These bands are like no other! With so many band systems on the market, it's near impossible finding an all in one system like Q bands! They are so versatile and easy to use. My 16 year old son, who is hoping to play D1 baseball uses them all the time. He is a pitcher and outfielder and these bands are able to help in every area of development , strengthening and activating all his core muscles needed for not only baseball, but all sports and injury prevention. We fight over who gets to use them first. We love them!!
A game changer!
Incorporating the use of Q-bands into my treatment and training programming has helped take things to the next level with my athletes. Not only are the compact and so easy to take with me when traveling, but they have some much utility in all the different ways that you can use them. You're truly only limited by your imagination which has been fun to play around and explore different applications, but the ability to engage the entire kinetic chain makes workouts more challenging and efficient.
Elite Level Training
The Q-band system has been a revolutionary game changer for my practice and clientele. As a physio that highly values the importance of using the body as an entire kinetic chain, the q-bands have created space for multipurpose utilization, encouragement of irradiation, and allowed for new avenues to challenge muscle groups in a dynamic way. It has become a staple in my day to day sessions and has also become a fan favorite to take an exercise to the next level!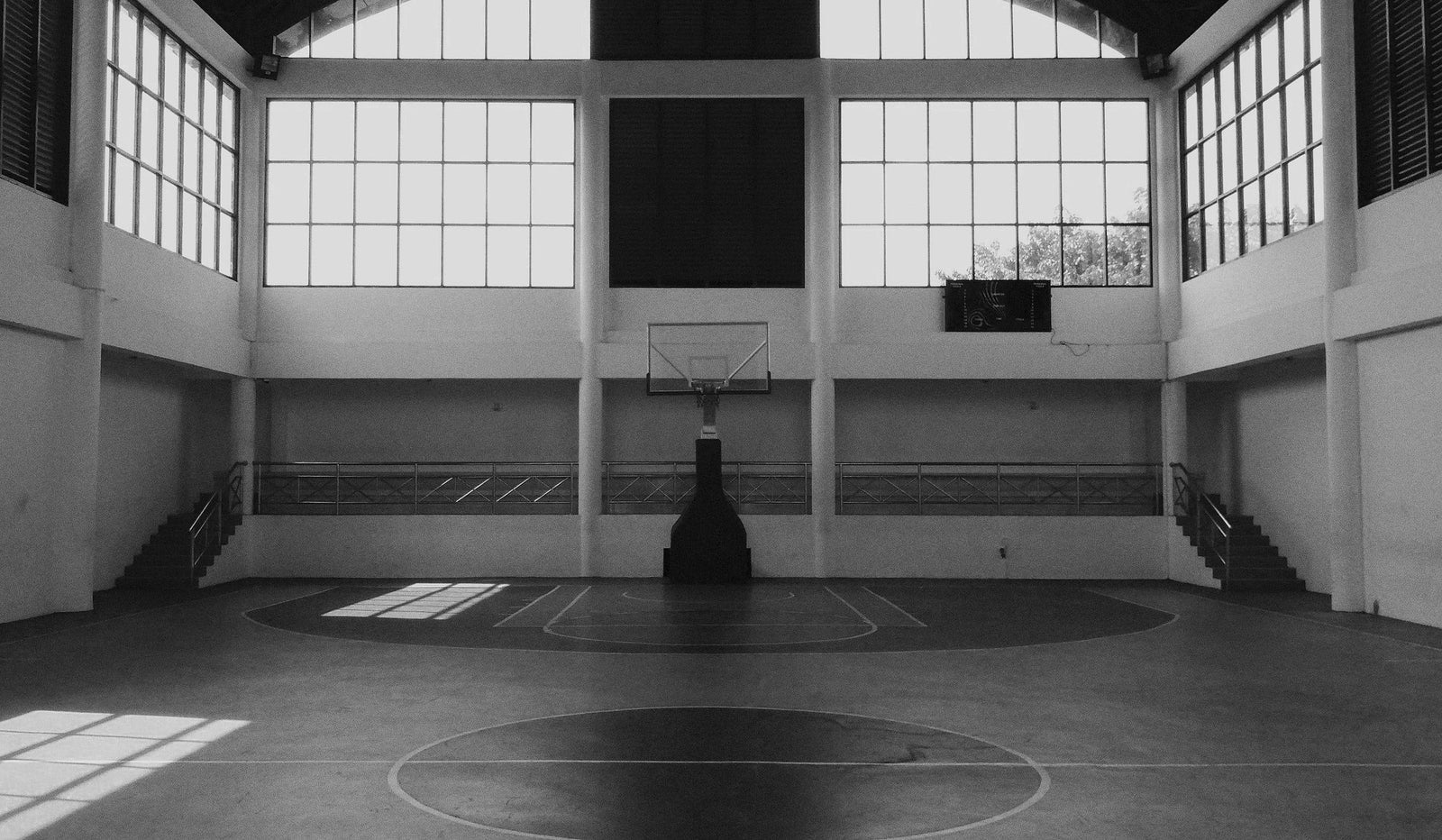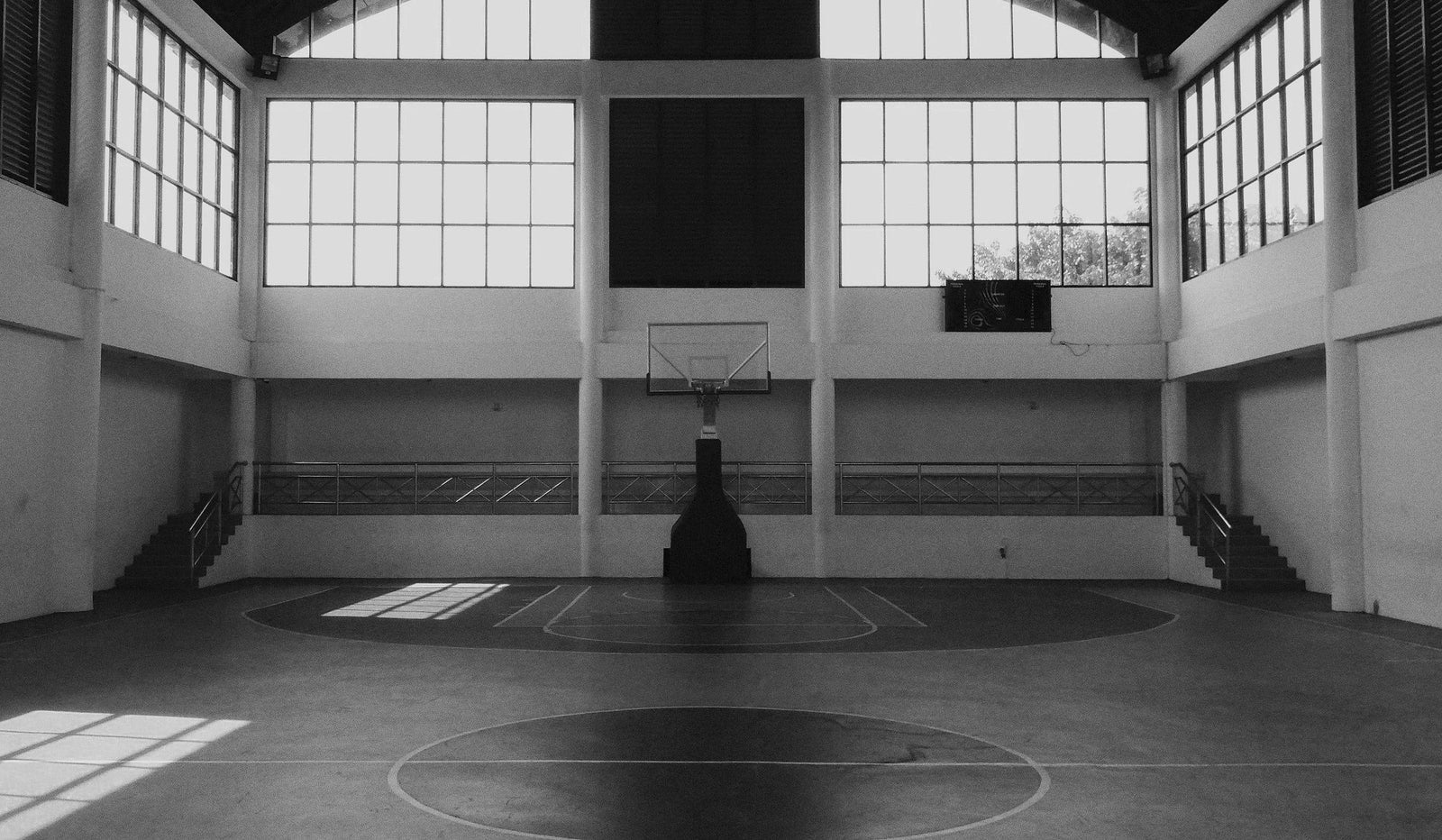 QBANDS WERE MADE TO POSITIVELY IMPACT THE HEALTH, LONGEVITY AND PERFORMANCE OF ATHLETES ACROSS THE GLOBE
OUR STORY